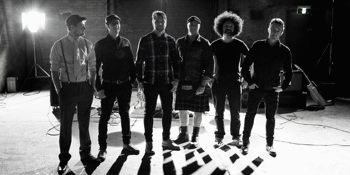 The Headroom Agency, Punkfest & Atomic Cherry present
XSLF (UK) & The Go Set
with special guests
The Brightside (Fortitude Valley, QLD)
Saturday, 17 November 2018 8:00 pm
Henry Cluney & Jim Reilly both original member's of seventies Belfast punk band Stiff Little Fingers.have now gotten together(2013) and formed XSLF<https://www.facebook.com/XSLF-467545846667000/?fref=mentions>. Playing all the great SLF songs (Alternative Ulster, Suspect Device, At the Edge, Tin Soldiers, and heaps more ) plus new ones from duet record Arrup Bang.

They will be joined on the road by Melbourne celtic-punk stalwarts, The Go Set, and tour Australia for the first time in November 2018.

Tickets on sale 12th June.

Review of record;

XSLF : ARRUP BANG (ALBUM REVIEW)

If I was allowed to stretch the truth, just a little bit, then I would be able to say that Alternative Ulster was the first single which I bought, I could then wear that as a badge of honour, (I'm less likely to admit that it was probably Sugar Baby Love by The Rubettes). But from the moment when I became the proud owner of the Alternative Ulster single I became a big fan of Stiff Little Fingers, (and still am).
There have been line up changes and departures, and associated fan furore and rumours. The vocal and unjustified split allegiances are a mystery to me, I watch Stiff Little Fingers and XSLF and enjoy them both, for different reasons.

Arrup Bang is the new album from XSLF and when I say 'new' I mean that all tracks are brand spankers, there are no re-hashes of bygone classics. I really should find out from the band what the title of the album is all about, but maybe that would spoil the mounting speculation! (I reckon it's to do with that cruel pastime where kids inflated frogs using a drinking straw.....but enough of that!)
OK, you now know that I'm a fan, and when you realise that it was recorded at Buck Defects Studio (another early icon for me) you would guess that I am highly unlikely to pick this album to pieces, but I'll try to be as honest as I can be.
I was initially disappointed by the faint vocals and the heavy guitars, but soon realised that my daughter had changed the settings on the equaliser. Once rectified I sat back and got into the album.
My first thought was that there are some high points and a couple of tracks that were not so great - I left it for a while and then went back to playing it in the car, I truly believe that this album grows on you, it sneaks in under the skin and has you singing along, both with the songs and then whilst going about your business.
Here are a couple of insights ; Jim and Ave both put in admirable vocal performances and surprise of all surprises Henry lets on that after 40 years he still doesn't know what punk is!
This is an accomplished album and a real treat for fans of great guitar driven (punk) rock music, the lyrics are punchy and of this time, social and political commentary is a recurring theme. This Belfast band have been around a few blocks in their time, and their music is all the more relevant for this experience, I really hope that some of these songs become part of the live repertoire, especially 'What is Punk' maybe singing this one at a concert will stop it from being an ever present earworm!
Purchase the album HERE Band Facebook HERE Website HERE