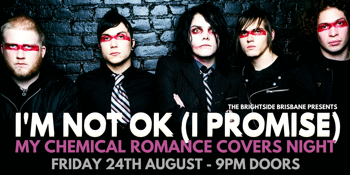 The Brightside Brisbane presents
I'm Not Ok (I Promise) - MCR Covers Night!
The Brightside (Fortitude Valley, QLD)
Friday, 24 August 2018 9:00 PM
I'M NOT OK (I PROMISE)...
IT'S A MY CHEMICAL ROMANCE TRIBUTE NIGHT and we're throwing one hell of a throw-back party.

We're taking it back to 2006 when everyone was sadder, darker and didn't turn their nose up to cask wine in a park. Wear your best MCR shirt, chuck on some fingerless gloves and fire up that GHD, it's an emo/scene party fer sureeee.

A few of Brisbane's best have formed an almighty cover set, so prep yourself as members from The Wisher & The Well, Lifeblood & Avarice's Fall tear it up onstage. Special guests to be announced!

The BRIGHTSIDE DJs will be taking over after bands with the best punk/party tunes from 2006 to now.