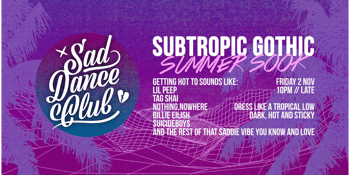 Sad Dance Club
SAD DANCE CLUB // Subtropic Gothic Summer Sook
The Brightside (Fortitude Valley, QLD)
Friday, 2 November 2018 10:00 pm
Saddie is back in the sunshine state and we're on a warpath against Summer. Emo is a winter sport but we're trying something a bit different with the SUBTROPIC GOTHIC SUMMER SOOK.

All the Saddie vibes you know and love plus some tropical flair to keep things cool. We're talking cocktails, we're talking Yung Pinch, we're talking the sooky rap party you know and love.

Sounds like $UICIDEBOY$, LIL PEEP, GHOSTEMANE, POUYA, LIL BO WEEP, NOTHING,NOWHERE., KHALID, LIL SKIES, TAG SHAI, LIL XAN, POSTIE, BONES & heaps heaps more.