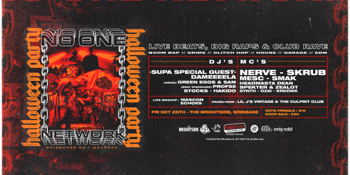 No One Network presents
NO. 1 Halloween Party
Live beats, Big Raps & Club Rave
The Brightside (Fortitude Valley, QLD)
Friday, 26 October 2018 6:00 pm
* $250 IN DRESS UP PRIZES, 35MM PHOTOS, WIN A FREE STUDIO SESSION W/ NERVE, SUS UPCOMING MC'S, EMBRACE ALL GENRES of DJ's & SUPPORT THE UPCOMING ARTIST COMMUNITY IN BRISBANE *
* BOOM BAP // GRIME // GLITCH HOP // GARAGE / EDM *
*SPECIAL GUEST* - DAMEEEELA - NERVE - SKRUB - MESC - SMAK - SYNTH - HEADMASTA DEAN - SPEKTER - ZEALOT - OZAI - KREZNIK - GREEN EGGS & SAM - MASCON ECHOES - PROFSE - STOCKS - HAKIDO - KYEL GOLLY - ONLY ODD - BRAIN STORM. PRIZES FROM LIL J'S VINTAGE & THE CULPRIT CLUB.
The NO.1 HALLOWEEN PARTY is the NO.ONE NETWORK's debut event as a collective of independent artists from Brisbane, originating from a love of the city's urban scene. Organised by crew members Kyel Golly, Only Odd & Brainstorm, this will not be the typical gig, and sets will be provided in genres rather then artist sets.
The night will start with DJ's Hakido, Stocks & Profse spinning in the beer garden, followed by a beat mash up from Mascon Echoes and big raps from our MC's (all on stage together , including: Nerve, Skrub, Mesc, Smak, Zealot, Dean & more). Followed up a blacked-out grime session hosted by NERVE and a RAVE to shutdown the night from Dameeeela and a SUPA SPECIAL GUEST.
Tickets will be available for $15 on Oztix.com.au. $20 at the door. If you buy a ticket online, send us an email with your Oztix receipt and we will put you in the draw to win a free studio session with NERVE (producer, MC, engineer) & Brainstorm (NO.1 Studios).
The event has been sponsored by FotoFast Taringa (film developing company), which has provided our team with 350 35mm photos to take of our awesome friends attending. Photos will be available on the Network page following the party. Lil J's Vintage & the Culprit Club will also be providing $250 in prizes for the 2 best-dressed individuals at the party – dressing up is optional. No Spin Records will also be there interviewing artists and streaming live from the event.
The NO ONE NETWORK is a creative collective of MC's, DJ's, producers, photographers, videographers, fashion recyclers, sound engineers, gallery curators, publishers, aerosol lovers, barbers and basically all things fresh. The crew recently branded their collective following successful shows and visiting cities such as Melbourne, Sydney and Hobart to work with artists such as Wombat, Greeley, Fraksha, Scotty Hinds, Diem, Huskii, Lil Sknow, Chillinit, Body Bag Media, THCtv & more.
To find out more about the NO ONE NETWORK, head to @no1network or watch some of their videos on the NO ONE NETWORK YOUTUBE.