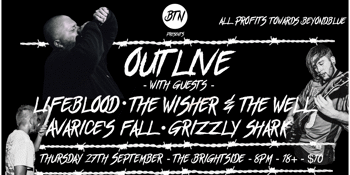 BTN Entertainment presents
Outlive
with Lifeblood, The Wisher & The Well, Avarice's Fall + Grizzly Shark
The Brightside (Fortitude Valley, QLD)
Thursday, 27 September 2018 8:00 PM
BTN Entertainment has teamed up with The Brightside to presents Brisbane's best heavy music bands, who are putting their best songs forward to raise funds for BeyondBlue.
Taking place on the 27th of September at the Holy Mecca of heavy music, The Brightside, Outlive are joined by Lifeblood, The Wisher & The Well, Avarice's Fall and Grizzly Shark Brisbane favourites Outlive are ready to cause a ruckus, and for the most worthwhile cause. If you have seen them live before, you know that they bring the energy, emotion and escapades, guarantying a night you don't want to miss.
Lifeblood are back with a brand new single "Expand" which has already received high appraisal throughout the heavy scene. They are more than ready to bring the angst to the stage, debuting the track live for the first time. Listen to and read more about their single here ->
Joining these bands, The Wisher & The Well are back for their first show this year, which has been waited for with baited breath. Jumping in on this stellar lineup is Avarice's Fall, who are performing their last show for the foreseeable future. Completing this bill of Brisbanes' best is Grizzly Shark, a new band on the scene who brings a breath of fresh air and energy, and are already making a name for themselves.