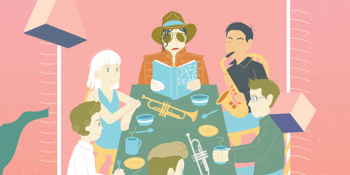 UQ Big Band presents
Scandal At The Breakfast Table
The music of Markus Geiselhart & Michael Jackson
The Brightside (Fortitude Valley, QLD)
Sunday, 11 November 2018 8:00 pm
The UQ BIG BAND is based at the University of Queensland in Australia, and consists of students and alumni who major in a range of academic fields but who all share a passion for jazz and contemporary art music.

The UQBB has become one of the most innovative and aspiring large jazz ensembles in Australia, having premiered many new programs in recent years. This brand new program, "Scandal At The Breakfast Table" brings together the incredible rock-infused music of Viennese jazz composer/trombonist, Markus Geiselhart with the timeless R&B soul of the King of Pop, Michael Jackson.

The UQBB has also extensively performed the works of Radiohead, Frank Zappa, Bjork, Horst-Michael Schaffer with the JBBG (Graz, Austria) and German-based, singer/guitarist Monika Roscher. In 2016, the UQBB toured the USA from Los Angeles, San Diego and New York, where they worked with Vincent Gardner and Bob Mintzer, performed with Gordon Goodwin at CalArts (Los Angeles) and Randy Brecker (Shapeshifter Lab, New York). They also were the first Australian Big Band to be featured at the New York International Music Festival, performing at Carnegie Hall. In 2018, the UQBB joined forces with LA-based Australian movie composer/drummer/conductor Tim Davies (La La Land, Trolls, Minions, Ant-Man, Empire, The Peanuts Movie, The Muppets, Lego Ninjago and Frozen) to perform a series of his Grammy-award winning compositions for Big Band.